Full Auto Weapons for Sale
______________________________________________________________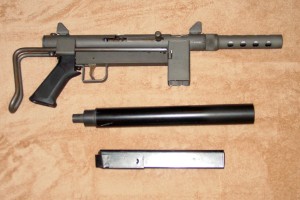 Stemple M76/45 submachine gun $8495 Shipped
John Stemple's version of the S&W 76 but in .45acp. Newer model with "grease gun" style telescoping stock and AR15 grip. Like new condition. Purchased it new from Stemple. Aproximately 300 rounds fired through it. Newest trigger assembly and greasegun mag catch was installed weeks before John Stemple's untimley death. Now uses un-modified M3 "grease gun" magazines. Unlike earlier models, there's no need to modify mags to work.
Package includes M76/45 with standard barrel & shroud,  suppressed barrel assembly, original trigger frame assembly (not shown), and 7 extra magazines (not shown). On Form 3 to SOT or Form 4 to SC resident.
_______________________________________________________________
The following guns are being appraised and released for sale. Prices are preliminary estimates. If you are interested in acquiring one of these, let us know to put you on the "first dibs" list or if you would like to make a reasonable "Buy Now" offer before final release.
Pricing will be adjusted based on value and condition appraisals and/or accessories to be included in final packages.
Will update with pictures, descriptions, and final pricing soon.
PS/RPB M11 .380 subgun w/suppressor ……………………………………$7,995
H&R Reising M50 45acp w/ 4-original mags……………………………….$6,995
Guide Lamp M3A1 "Grease Gun" (pre 86 dealer sample) ………….$8,495*
HK G36 (post 86 dealer sample) ……………………………………………….$2,500*
HK UMP 45 (post 86 dealer sample) ………………………………………….$2,800*
GSA 1919A4 MG right side plate (post 86 dealer sample) ………….$    200*
* Note: "Dealer samples" are only offered to class 3 dealers and may not be purchased by individuals.